Madhu Liebscher is a visual artist based in Zarraga, Iloilo. Her art stitches the many fabrics of her life, including her love for yoga, nature, and crystals. Although Madhu studied Architecture, her artworks are made out of fabric and textile, quite the opposite texture of building materials. Madhu's interest in fabric brought her to different places from Sagada to Europe. Her materials and her travels are entangled in her creative process.
Madhu assembles the textile art on the canvas and creates a subject as a focal point — oftentimes women doing everyday things. The visible stitch marks tying the textile together borrow a skill that is associated with applied arts. She paints the faces of her women with an emphasis on their eyes. And to compliment the patterns of the fabric, she paints flowers and plants around her subjects. Madhu also works on getting to know her material beyond the material itself by immersing in the culture of communities with a history that is tied around textile. She has worked with weavers in Oton, lived in Sagada, and seek out textiles in her travels abroad.
Apart from her exploration of the material, Madhu's textile art is also a manifestation of her lifestyle. As a yoga teacher, her mindfulness could be felt in her balanced composition, paying attention to the flow of the elements to guide the eyes of her audience. Her attitude towards nature shows how she picks flowers as motifs in her artworks. Her design skills and attention to detail which are acquired by studying architecture, build the elements into one cohesive artwork. Madhu mentioned that her art is her story. True enough, when examined, her works are eccentric forms of autobiography.
How long have you been living in Iloilo?
I was born in Molo, and I left Iloilo for Sagada when I was 29 years old. I traveled around the country and abroad and I came back two years ago.
How has Iloilo impacted your art-making?
My first artwork that was exhibited at Museo Iloilo was a fabric tapestry of a lady in patadyong and framed with ipil-ipil branches. CAP Philippines bought it for P2,500 in 1991. The patadyong were scraps from my neighbor in Oton who was a weaver. Those backyard weavers satisfied my desire to create art from fabric, which nobody was doing at that time. There was also an abundance of seed beads, kuyas and mata-demonyo that I used to incorporate in my works. Then I spent a year in Boracay, sourcing my materials of fabric scraps from the bikini sewers in Talipapa.
Iloilo is a haven of endemic indigenous materials that I need for my art and the rich Ilonggo culture provided me with ideas that I can heartfully conceptualize as a true-blooded Ilongga.
What are the challenges you are facing as an artist in Iloilo?
I think I have transcended the challenges of being an artist, not only in Iloilo but everywhere.
One challenge I had to face before was to get a slot at the galleries and museums, but Iloilo has evolved from putting art shows exclusively in galleries that they have in malls now, easy access to the people to view the works. Not for its commercial intention but for the artists to be proud to show their works to the public. Good exposure.
But I had transcended that, as I am working now to have my own gallery in my home.
What are you communicating to your audience through your art?
My roots. Spiritual roots. That includes the culture my ancestors created for me. Heritage. And my own personal journey.
What do you like about using textile art as a medium?
It's soft and has a feminine quality that is calming to work with. As an empath and a meditative artist, I can feel the energy of each textile, vibrations I get from its previous owner, as I work with second-hand materials.
What are you currently working on?
Right now I'm working on a commissioned 30 x 30, fabric tapestry, TREE OF LIFE.
What is an impactful experience with art that you've had in the past year?
There are impactful events that happened, the first one was during Typhoon Yolanda when I had not saved my artworks from the devastation. I was in Leyte at that time. I created new works with all the reserved energy I had and sold all of them to friends, small paintings on paper, there were limited art materials then. Art saved me financially and it was a healing time as well. The trauma was just too much to ignore.
The second event was last year when the lockdown was declared. I lost my source of income. All the tourist shops were closed. I supply artsy souvenir stuff in Sagada, Banaue, Baguio, Boracay, Puerto Galera. I used to teach arts and crafts at the Gamot Cogon Waldorf School as a guest artist. However, I cannot teach art in a modular setting. Again, art saved me. I was blessed to know a dear art patron and collector who likes my works so much. I get by, I thrive.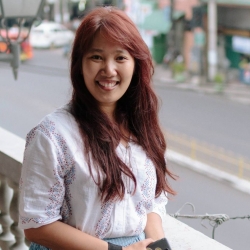 Latest posts by Allyn Canja
(see all)