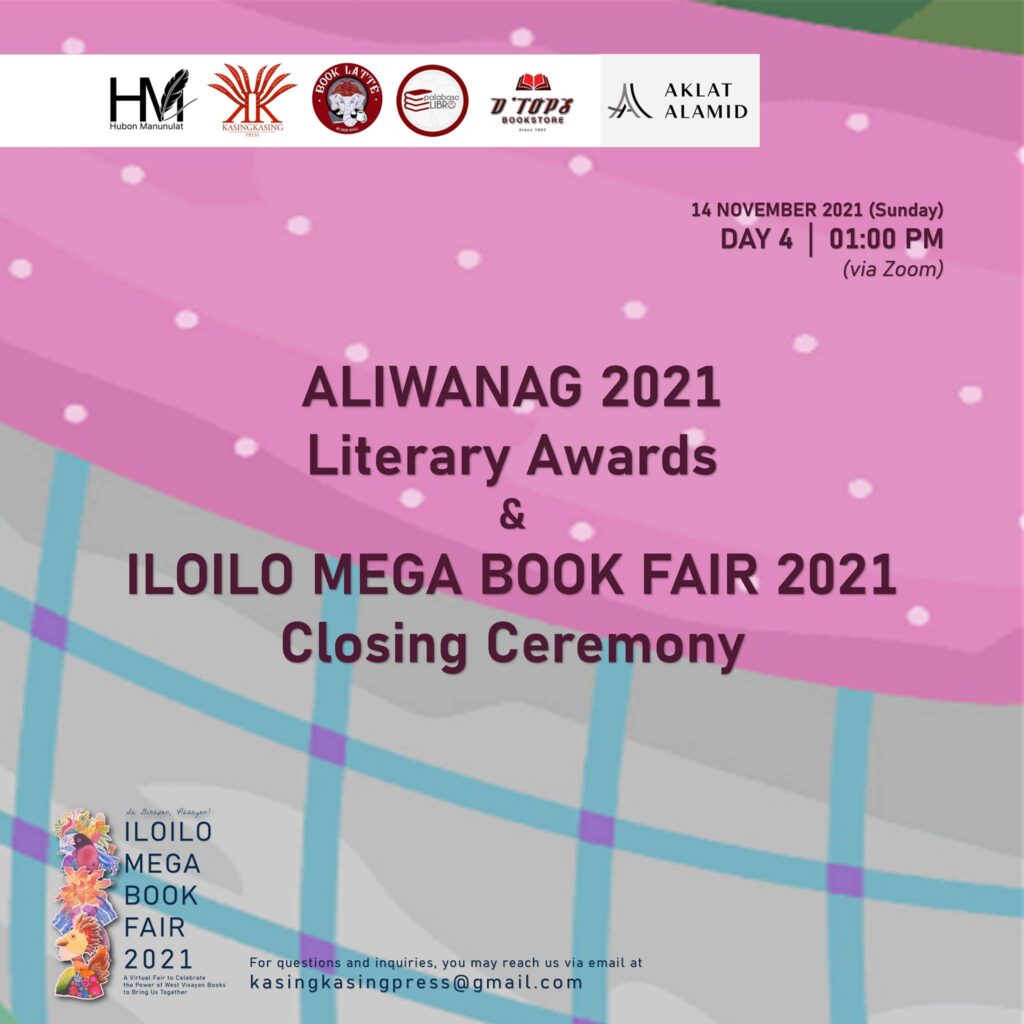 Iloilo (November 2021) – The Iloilo Mega Book Fair (IMBF) 2021 proves that the pandemic is not a hindrance to continuously serve our Filipino readers, particularly the Ilonggo, Karay-a, and Akeanon reading communities. Now on its fourth year, IMBF will once again open its door to serious conversations such as book production, marketing, and distribution in our community, particularly on the regional context in the time of pandemic.
This year, IMBF decides to bring our books and stories outside the academe and malls through the "IMBF Sari-sari Bookstore sa Barangay", which aims to reach out to ordinary Filipino readers and children from the seven districts of Iloilo (City Proper, La Paz, Lapuz, Jaro, Molo, Mandurriao, and Villa Arevalo) by bringing the books and stories written in their mother tongue closer to their communities.
This year's book fair theme is, "Sa Gihapon, Padayon" (Always Moving Forward). The Keynote Speaker is Dr. Ma. Cecilia Locsin-Nava, a teacher and scholar, and is one of the prominent figures in Philippine studies and Literary criticism. This year's Project Director is Noel G. de Leon, with Early Sol A. Gadong as the Project Manager, both are acclaimed writers and teachers from UP Visayas.
The highlight for this year's IMBF is the "Bida ang Lesbiana Talk Series", showcasing the experiences of our women loving women friends from an anthology, as well as local community initiatives from different parts of the country. We will listen as speakers — comprised not only of the country's acclaimed writers and literary scholars, but also of cultural workers and movers that will join us from Visayas and Mindanao — talk about Filipino writers' experiences in the time of the pandemic.
This initiative by Kasingkasing Press, Book Latte, and Hubon Manunulat is a truly remarkable effort that shows how, despite all the problems in book production, marketing, and distribution during the pandemic, the groups are willing to break barriers just to serve the Filipino readers.For questions and sponsorship inquiries regarding IMBF 2021, please email kasingkasingpress@gmail.com.
Register here for free: https://tinyurl.com/imbf2021
Latest posts by Thrive Art Projects
(see all)