"No constraints. No limits. When you write,
you get to enjoy the best freedom possible."

Icy Belen Tumayao
Icy Belen Tumayao is a twenty-six-year-old writer from Tigbauan, Iloilo, Philippines. She started writing when she was 12 years old, after being acquainted with the delicate existence of books and newspapers that were introduced in their school publication. She is passionate about art, and all its mediums and derivatives. She is unfathomably in love with words, and with all the tender details comprising literature. Most of her works are narratives of reimagined realities; with all the encounters and departures, and everything in between. She explores the skewness of love and the vulnerability of the human spirit, in all its shames and glories, to seek a deeper understanding of the world. Charles Bukowski is her greatest poetic inspiration. Aside from writing, she has a knack for numbers and mathematical formulas. Icy graduated from the University of the Philippines Visayas with the degree Bachelor of Science in Applied Mathematics. She is currently a regular employee at the Local Government Unit of Tigbauan.
About "The Language of Wildflowers".
The language of wildflowers is a collection of prose and poetry written in English and Filipino language. It is a tapestry of midnight musings and lucid imaginings purely crafted for self-expression. This is a book bearing all shades in the spectrum, a collage of abstract pieces, metaphors, and vignettes, both in free verse and rhyming poetry. This book depicts the bold reality of emotions; from the raw and gritting verses of hopelessness and devastation to the empowering facets of love and acceptance. The Language of Wildflowers, metaphorically, is the author's take on the crests and troughs of life. As a wildflower herself, this is the language she understands the most. This book is for the softies, for the anthophiles, for the lovers of dark clouds and hurricanes, for the ones who will stop to appreciate the song of the wind; for those who can hear it, and for those who are striving to. This book is for you.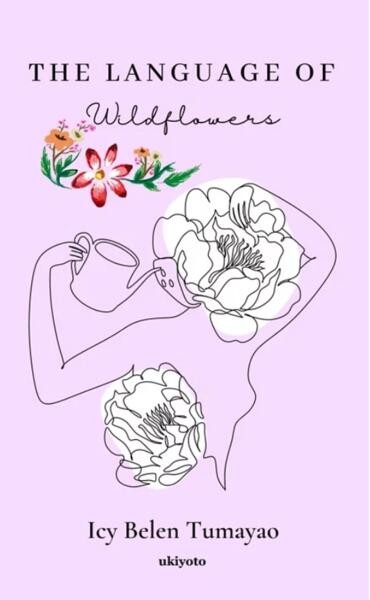 Q: What kind of child were you?
I was a bit introverted. I love the comfort of being isolated, away from the world. I grew up in a simple and plain household. I had experiences of playing with the kids in our neighborhood, though the memories weren't that flawless. I used to get bullied because of being clumsy. I wasn't good with any physical games. That was partly the reason why I felt more comfortable alone.
Q: What did you read as a child?
I wasn't exposed to a lot of books when I was a kid. I only had one encyclopedia which I barely read. I was more focused on playing chess, solving puzzles, and other stuff mostly related to mathematics. In my teenage years though, I started to read a lot of PHR novels that inspired me to be a romance novelist.
Q: Do you enjoy writing then?
Honestly, I was a horrible writer when I was in grade school. I can hardly finish a sentence, let alone, a senseful paragraph. Back then, writing wasn't my cup of tea. My father used to teach me a lot about English, since I was having a hard time coping with the subject. I admired the essays my father wrote and wanted to achieve that level of fluency with words. I also wanted to make him proud.
Q: When did you realize you wanted to write?
I discovered the beauty of writing when I was introduced to our school publication. My English teacher was holding a newspaper back then, teaching us the importance of words, on how it can change the world, one writer at a time. It was enlightening for me: the whole concept of writing. It was promising, the thought alone carried a huge magnetic pull. People will eventually die but written words live forever. Right there and then, I decided to be a writer.
Q: Once you began to write, what future did you imagine for yourself? What was your dream?
I wanted to be an effective writer. A writer who speaks with a unique poetic voice, someone who could write something impactful and unforgettable. I wanted to impart to my readers a sense of strange familiarity, someone who could bring nostalgia to the forefront of literary excellence. My goal is to write reality-biting pieces, to be able to pull off an intense fusion of art and logic seasoning the layers of human psychology. I wanted to be someone who could unveil the beauty of words, for all eyes to see.
(Also, I wanted to win a Pulitzer Prize and be a New York Times Bestselling Author.)
Q: Were you reading poetry books by other writers for inspiration?
I love to read poetry in general. I am a huge fan of Charles Bukowski. His depressing themes and unconventional writing style fuel my literary vices. I had read a lot of his poems published on AllPoetry.com.
I also admire the poets I met in different online poetry communities. The works of Banjolyn, Roy Liran, Admer Balingan, John Compton, Ananke, and Alexander Robert Marx are some of my all-time favourites.
Q: What do you do when you get stuck? When you don't know what to write next?
When my creative juices run dry, I take a full stop. I would usually divert my attention to some other productive activities like crochet and sketching. I would also read novels and coffee table books to pass the time. Based on past experiences, the urge to write again would eventually resurface after a good rest.
Q: How did you get started with "The language of wildflowers"? What gave you an idea?
I am downright in love with wildflowers, a full-pledged anthophile. When the idea of publishing a book came to me, I instantly knew what the title of my book would be. No doubt it would be about flowers-wildflowers specifically, with all its suburban nicknames and metaphors.
Q: Have you had to research for your books?
I only did a little research. After all, my book wasn't an informative and objective-based type of reading material. It was rather an expression of freedom, whatever I had perceived it to be.
Q: Tell me more about how you revise a book?
Since my book is (mostly) a poetry collection, I sorted poems based on the subjects presented: love, depression, and death. I also explored abstract poetry with a touch of surrealism and tried to create subgroups based on the flow and structure of the poems. After the general formatting, I would read the poems twice to check for any typographical errors or stray punctuation marks. I would then revise some phrases, and work on some spacing schemes if needed, to achieve an overall smooth poetic flow.
Q: How do you know when a book is done?
I would know when a book is done when the formatting is complete and when no errors are recorded after a series of proofreadings. I would read the whole book one last time to feel the rhythm and the smooth transition from one poem to another.
Q: How did you go about getting your first book published?
I learned about Ukiyoto publishing from a poet friend. It has a good reputation for traditional publishing and has an overall good review from its active writers. Since it was my dream to publish my own book, I decided to give it a go. My poetry book was a compilation of poems I wrote for the past seven years. When my manuscript got accepted, I was ecstatic. I was thrilled to share the news with my family and friends. It felt surreal. Definitely, a moment to remember.
Q: What do you like best about being a writer?
Being a writer is having the graceful privilege of making the unseen things visible. Writers are the archeologists and the architects of the literary world. They dig up to fetch wonders we never knew existed. They build and create something lasting, significant, relatable,… immortal. All these by the mere bridging of words.
Writers, for me, are great influencers. And from a personal view, writing can be a tool, an outlet to rechannel your own personal angst and sorrows into something… beautiful. Writing can save people. It saved me.
Q: Many young people who want to write think they have to go to indie publishing. Do you think so too?
I think it is a personal choice. And if you're new in the field of publishing, indie publishing might be a good thing to consider. But first, think ahead and list down all the possible outcomes of publishing your book. Be prepared financially. Think of effective marketing strategies. Is your book suitable for everyone or for only a certain demographic? From here, you can decide to give it a go or a pause. But if you love writing, the idea of writing alone will outweigh all the risks. So go for it!
Q: What do you tell young people who want to write?
I always believe that each and every single soul is unique. One way to showcase your authenticity is through writing. No constraints. No limits. When you write, you get to enjoy the best freedom possible.
One thing: embrace and value your progress. You don't need to be as good as Khaled Hosseini the first time you write. Develop your skills through time. Find your own poetic voice. Read books, more books. Then write. Just write~
---
The Coming of A New Breed of Ilonggo Writers is a series of conversations with Ilonggo young writers on how to cultivate a creative mindset during quarantine. Compiled and edited by Noel Galon de Leon of Kasingkasing Press.
Featured illustration by Kristelle Suarez.