The Golden Age of Filipino Comics gave us Classic Komiks, and introduced us to characters that went on to become household names. Comics enthusiasts place this era from 1950 – 1980. During this time, people from DC went to the Philippines to scout for talents. One of the artists whose illustrations found their way to the pages of DC is Art Geroche.
A graduate of Drafting from the West Visayas College of Science and Technology (Iloilo Science and Technology University), Art Geroche was working as an artist, contributing to Yuhum Magazine and illustrating the novels of Ramon Muzones. According to Geroche, his friend from Manila told him to send samples of his works to DC. He was consequently hired, and a script written by an American was sent for him to illustrate.
Gerry Alanguilan wrote that comic book artist and writer, David Roach describes Geroche's art as "a mix of Gene Colan, Doug Wildey, and the Spanish grandmaster, Jesús Blasco."
The panels he has drawn for DC were part of the horror-boom in the late 1970s. In order to create the American characters and scenes fit for the DC audience, Geroche studied the American styles of illustration by looking at clippings of sceneries including people's facial expressions.
While drawing for comics, Geroche was also painting historical events and cultural traditions which earned him projects in different government institutions. One of his popular works is the depiction of Hinilawod displayed at the West Visayas State University – Cultural Center.
Perhaps the most apparent characteristic of Art Geroche's art is his command in creating lines that really dictated the perception of movement in a scene. He exhibits the ability to capture gestures in depicting the stance of a warrior, the aim of a soldier's gun, dancing of the townsfolk, etc. He brings this to both his illustrations in comics and paintings on canvas.
How did you get to work as an artist for DC Comics?
I showed samples of my illustrations to DC publications and waited for the result. That's all because, thru those pieces of your work, they would know your caliber. I was an artist in WVSC and contributes drawing to Yuhum Magazine, illustrating the novel of Muzones [Referring to National Artist for Literature, Ramon Muzones]. My friend in manila told me to send samples of my works, he sent my works to DC, and an American writer sent a script to my friend for me to illustrate.
When you worked with comics, were you also painting? How were you able to switch to different media and have a distinct style in both field?
You know illustrations and painting are different. In illustration you can establish lines, you cannot do the same in painting.
There are illustrations that the approach is painting like the illustrator of the classic Prince Valiant, but he didn't attempt to paint. He was considered the illustrator's illustrator. Many Filipinos are great illustrators, like Coching, Redondo, Alcala, Zuñiga, etc. But they are not painters.
I learned painting from works of Rembrandt, then works of Sargent and Sorolla. I learned mostly through Europeans. I started everything in comics — figures, proportion, layout, light, and shadow, etc. And then I applied these in painting.
Do you still read comics? What do you think about the current state of the comics industry in the Philippines?
I am already retired in comics art. I will just concentrate on painting cultural/historical themes for Iloilo City. Almost all of my paintings are about Iloilo's culture and history.

I also think that biblical subjects are the best!
Are still doing projects until now?
Yes, actually am finishing 4 3ft x 4ft entries for the art contest in celebration of the Philippine Quincentennial.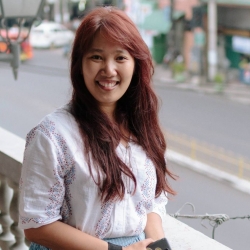 Latest posts by Allyn Canja
(see all)