If you have attended an exhibition, gig, or festival in Iloilo City, you have probably seen Christian Lozañes. You will see him in full battle gear — a huge backpack, a cluster of ethnic bracelets, two cameras hanging on his shoulder with different lenses. He has never been seen in public in a shirt that is not black. He grew his hair long and adorned it with a clip that is studded with a canine tooth. It is not difficult to spot him in a sea of crowd.
Lozañes who has a degree in History is in a way practicing historian's work by chronicling arts and culture events in Iloilo City. His website through ILOstrado dates as far back as 2010 while he posts his recent journals in Kadlum. He also contributed to Project Iloilo and IloiloArt.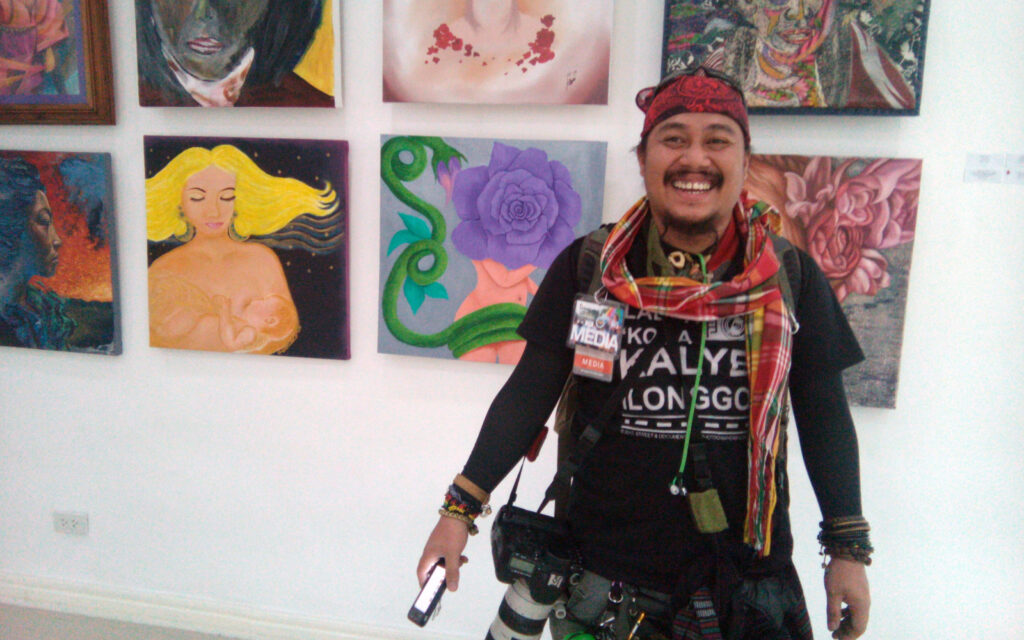 Ilonggo musicians often say that the morning after a gig, the first thing they do is to go to Lozañes' profile to grab photos of their performances. Lozañes is always present in gigs. He also promptly uploads photos which musicians use for their promos.
Lozañes considers his work during the Visayas Islands Visual Art Exhibition and Conference in 2016 as the project he is most proud of. He was the head of the documentation team tasked to photograph, not just the three-day biennale but also the events leading to the conference.
Aside from documenting exhibitions, Lozañes occasionally joins as an exhibiting artist. When he is not doing photography, he creates expressionist illustrations inspired by the indigenous culture. He has joined exhibitions including Siplat, Re: Mind, Pamukaw, Work In Progress: Studio Gangsters.
Watch this short documentary about Lozañes' work as a photographer from filmmaker, Mia Reyes.
---
What is your first memory of appreciating art?
As a young kid, drawing was my hobby. Even in school, I doodled on my textbooks and notebooks. I spent more time drawing than actually playing with my classmates. I had my share of not paying attention in class because I was drawing. I would also scribble on my own skin if a paper is not available. My class then would usually choose me to represent the class for poster making contest or any art-related events in school.
I'm an only son and my father was a lawyer. He had clients and he would always take me with him when I was free. I traveled with my father a lot especially when I did not have classes.
I joined him in visiting his clients in their residences and offices. These clients are also art collectors. So I grew up spending time staring at paintings, and other art in their collections while my father and his clients are doing their thing. I was a bored young kid, minding his own business waiting for his dad to finish his work.
In his office, I drew on the side. My dad would leave paper and pencil or pens for me so I can entertain myself. He would sometimes let me borrow and use his film SLR while we traveled together. While he worked, I roamed around the area and took photographs while I waited for him. He also had clients who are visual artists. And some are involved in music, theatre, etc.
I was exposed to a world of art at a young age. I think all of us siblings have that kind of exposure. We grew up having our parents get us a piano teacher and learned to play the piano at a young age. This is why we appreciate music a lot. During summer, my parents would enroll us in art-related classes (my father had schools and universities as clients). So I spent most of my summer as a kid in summer art schools while on vacation in Aklan.
My first ever art exhibit was in Aklan. And my father's artist clients became my pseudo-mentors. I eventually ended up as a teacher's assistant during these art summer classes.
What camera do you use to photograph the art that you see?
Well, I started documenting my own artworks with my own film SLR that I got from my dad (who was a hobbyist photographer). Then I started pursuing photography as a "career". I ended up investing in several DSLRs and other cameras.
What was your favorite exhibition among all the exhibitions that you have covered?
Being in charge of the documentation team for the Visayas Islands Visual Art Exhibition and Conference in 2016 was my favorite so far. I never expected to be part of a big art event in the country. My role is quite important as I had to manage a team of people from the media. So far that has been the most exhausting work but I am most proud of it.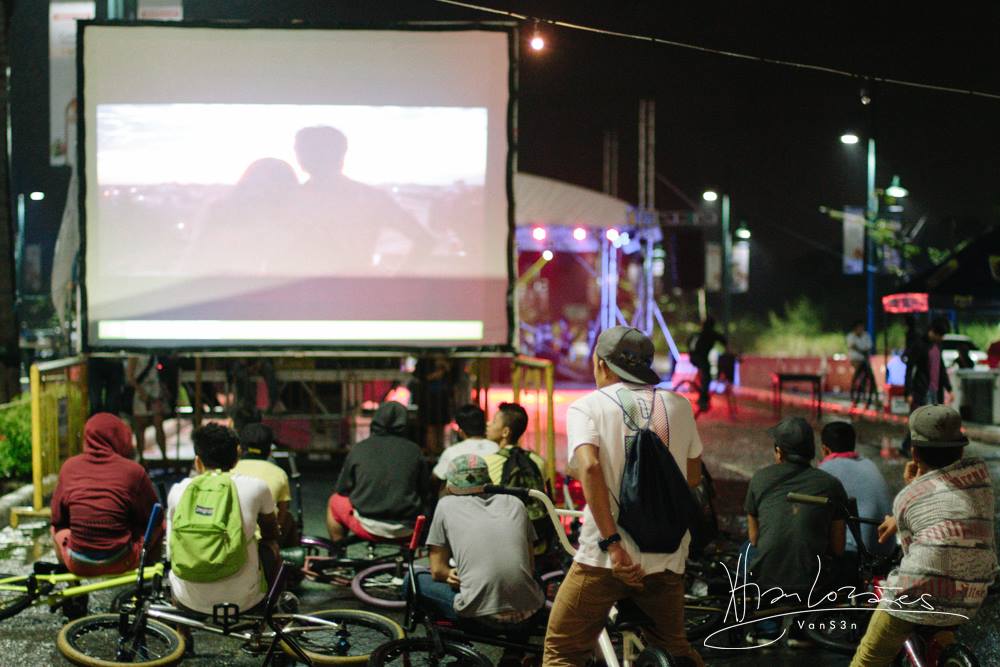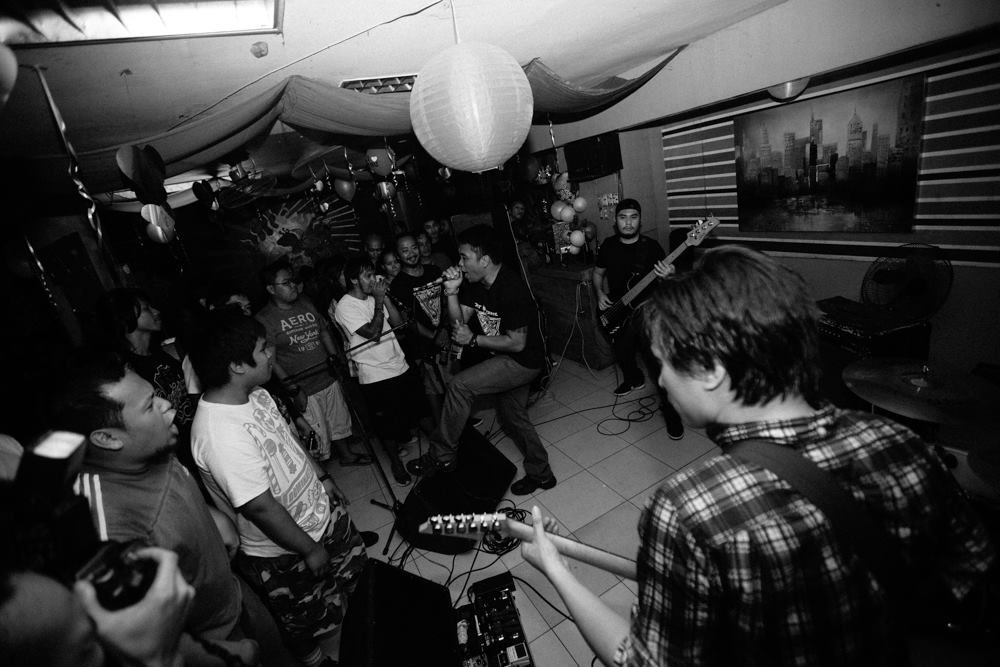 Are you currently working on a project?
Due to the pandemic and my failing health, I have spent more time idling at home than actively pursuing any art-related project. So far things forced everybody to be on hiatus for the most part. But I guess we are all preparing for whatever art project that will come once everything is back to normal.
There are some "projects " in the works but nothing is put in stone as of this moment. The pandemic has put a halt to a lot of activities for creatives.
What are the questions that people in your creative community should ask?
I'm not sure what to ask to be honest. Maybe in regards to their own works? Such as, am I pricing my art accordingly? Am I letting people treat my art, and me as an artist with respect and dignity? How can my art be relevant to people during these times? Is my art sustainable enough?
Maybe just those things. Laughs.
What is your current favorite work of art?
I love illustrations with a passion, digital or traditional, maybe because that is also my backbone as an artist.
And also, street photography. It will always be my thing. It is something I have been doing ever since I held a camera.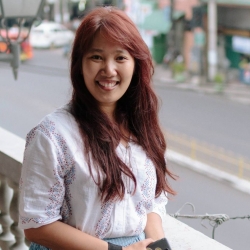 Latest posts by Allyn Canja
(see all)