In the 1970's, Wilhelmina Cole Holladay, founder of National Museum of Women in the Arts in Washington D.C. asked "where are all the women artists?". She is most notable for her collection of works from Renaissance to contemporary female artists. Many feminist movements have happened globally since then. In the Philippines where the progress of art may be a little bit behind compared to the western world, these movements have slowly trickled down and we are gradually finding the answer to the decades-long question.

Looking at history of art in the Philippines, there seem to be a notable number of women who are writers, curators and art managers. Purita Kalaw-Ledesma chronicled the arts in the 1970s, onwards and until her death. She is also famously credited for founding the Arts Association of the Philippines. Alice Guillermo called attention to the production of meaning and the understanding of the artistic and cultural value of art. Some Filipina artists are also leading community organizers, such as Brenda Fajardo who continued to become a prolific artist despite her work as a teacher and her role as community organizer. Similarly, Imelda Cajipe-Endaya, Fajardo's co-Founder of KASIBULAN (Kababaihan sa Sining at Bagong Sibol na Kamalayan) was also a community organizer, curator, and writer (she was instrumental in the creation of Pananaw: Philippine Journal of Visual Arts).

While women have contributed to the development of art in the Philippines, the audience still tends to perceive the value of work to be associated with the market. In February 2023, Fruit Market by Anita Magsaysay- Ho broke auction records, selling for P86,432,000. Magsaysay-Ho is credited for her idyllic artworks often depicting women preoccupied with daily tasks, or still life of an object often associated with femininity, and her soft rendering of oil paintings which can be attributed to the female aesthetics. Some consider collectors are considered the barometer of the commercial success of art. In 2020, Iloilo Museum of Contemporary Art attempted to showcase the artworks in its collection which are attributed to female artists. The exhibition entitled "7.23%" speaks of the staggering disparity of representation. However, one could not disregard the fact that private collections reflect the personal taste of the collector.

Perhaps a conventional intervention to the dearth of women representation in the art world is the customary all-women group exhibitions. Some institutions often organize these exhibitions to affirm their solidarity to the feminist movement. Yet some of these exhibitions fail to reinforce the notion that art from women artists can be viewed beyond femininity.

The work in women's representation in Philippine art has definitely come a long way that it begs another question, where are all the Ilongga artists?

Note: Ilongga for the purpose of this article refers to artists from Iloilo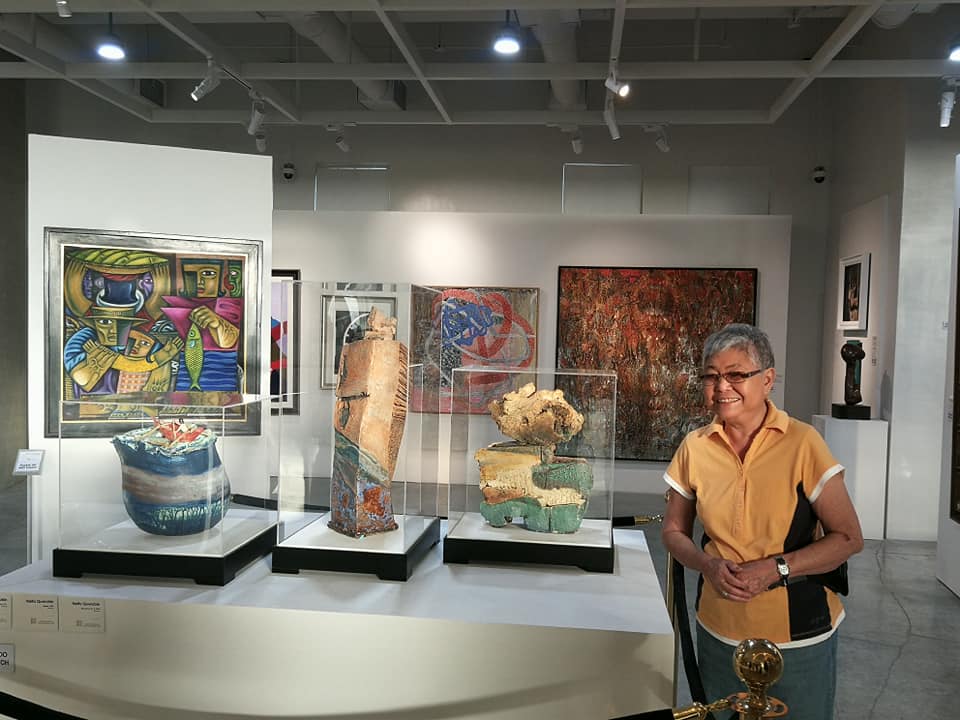 Breaking the proverbial glass ceiling
Perhaps the breakthrough in art for Ilongga artists started in 1980 when Nelfa Querubin was awarded as one of the Cultural Center of the Philippines' Thirteen Artists. In her notes for Querubin's retrospective at University of the Philippines – Visayas Art Gallery, Brenda Fajardo said that "It is in her clay works that Nelfa integrates and synthesizes her art and life experience. At first experimenting with clay, natural glazing and firing techniques, we see color coming into the clay to a point that the skill of working with line, engaging textures and infusing the works with colors created forms that contain all the elements of the earlier path of drawing, painting and printmaking."

Querubin is not the first Ilongga to be awarded as one of the Thirteen Artists. In 1972, Ofelia Gelvezon-Tequi was also selected for the same award. Gelvezon is credited as one of the pioneer printmakers of the Philippines. Her work explores the Filipino identity through the lens of spirituality and indigenism. Unlike Querubin who remained active in Western Visayas in the 1980's, Gelvezon primarily worked in Manila. Eventually both women artists moved abroad with occasional homecoming to hold exhibitions.

Querubin and Gelvezon in some ways helped pave the way for other artists, especially with their roles in their respective communities. Gelvezon taught at the University of the Philippines and Querubin was involved in art events in the Visayas. During the years when the art world was synonymous to brotherhoods, these women excelled in their own art practice while breaking the proverbial glass ceiling.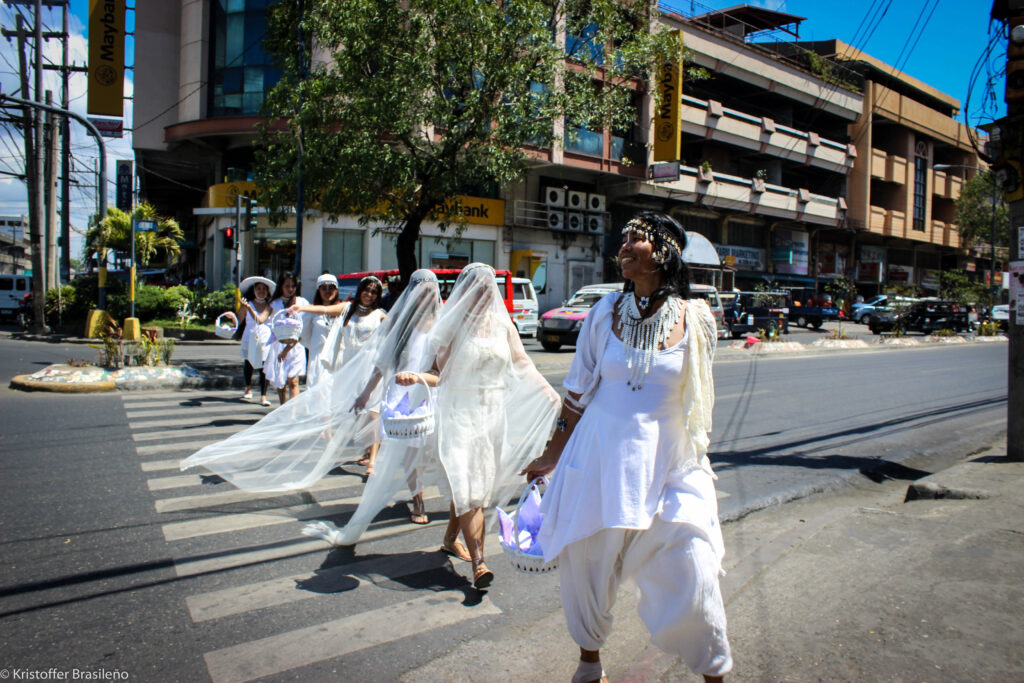 Women as community caretakers
The 1990s saw many changes in the Iloilo art community primarily because of Hublag (Ilonggo Arts Festival) and Visayas Island Visual Arts Exhibition and Conference. Despite these movements, no other names of Ilongga artists have surfaced which merited writing and documentation. But the women in the arts included writers and collectors. In the 1997 issue of Pananaw, Gaudencia Doromal wrote about a vibrant art scene in the Western Visayas. She was also instrumental in holding the 2001 Ilonggo Arts Festival which combined the indigenous and contemporary.
Iloilo gradually became a developed city. Many establishments were built. Along with this are spaces which the artists can utilize for exhibitions. Around 2006, University of San Agustin (USA) also offered a Fine Arts program which became a small venue for formal art education. In 2014, Rosalie Zerrudo, a community organizer from Camiguin relocated to Iloilo City. USA FA became her playground for teaching with emphasis on community engaged projects such as Super Inday where she organized women deprived of liberty to create tapestry, soft sculptures and installations.
The movement in art around the city was rapidly accelerated by the opening of the Cinematheque Iloilo, a government-managed cinema. Daniella Caro, manager, worked with artists to use a vacant room as an art gallery. Soon after the gallery was hosting exhibitions every month, along with other events such as poetry readings, art talks and workshops. In 2018, Mamusa Art Gallery opened, starting mainly with women artists Krys Balmaceda and Shiela Molato as managers. Women continued to be the force behind these movements: managing the nitty gritty of organizing an exhibition, curation, writing and even negotiating art to its market.
Emergence of a new generation
The creation of new spaces, the growing number of cultural practitioners and the steady flow of information gave birth to a new generation of artists. As preparation for VIVA ExCon 2016, painters from USA BFA including Kat Malazarte, Cheska Sarmon and Claudine Dignadice had their solo exhibitions at Casa Real Gallery and Cinematheque Iloilo. These artists went on to take different paths, with Sarmon and Dignadice moving abroad and Malazarte pursuing commercial exhibitions in Manila.
Due to the scarcity of options for formal education, artists found ways to leverage their gap from their counterparts in other cities in the Philippines. One of them is by joining art residencies. Margaux Blas and Giah delos Reyes were able to attend Linangan Art Residency in Cavite with the help of the Iloilo City Government. Blas' current works incorporate both painting and fabric which she places together to form collages. While delos Reyes' focuses on use of natural dye on fabric to create fabric installations. Another opportunity which may validate an artist are awards. Recently, Jirah Labanza was announced as one of the finalists in the Visayas for the Philippine Art Awards 2023. Labanza's work are personal interpretation of her surroundings and her experiences.
Women artists are also fostering other art practices including comics, and children's books illustration. Mia Reyes, won a grant from the Cultural Center of the Philippines to develop a manga. Artists like Lucia Azul, Mae Shielou Conserva, Adelle Pacificar, Modj Misme, Feldianne Aragon among others are working with writers to illustrate their stories. Marge Chavez, Kristine Buenavista and Sasha Cabais who are members of the group Artivism Iloilo are helping their group create murals around the city. These women are finding other avenues of creation that do not depend on spaces but consider stories the most. Perhaps women are natural storytellers, the act being a part of motherhood.
Most of the opportunities for women artists are created by themselves. As of writing there yet to be a printed publication chronicling their creative process, role in the making of an art community and the art that they have produced. Perhaps the next steps could be institutional support for women artists who are in different stages of their practice, exhibitions that can get them out of the box that the all-women group exhibitions have created, and whenever they chose to, allow them to be artists instead of relegating them to the role of the organizer.