There's a convergence of the novel and the familiar, both in the sense of ideas and methods, in Roselle Perez' and spaaawn's mix-media collaboration Punctum: wounds of time (February 23 – March 18 2023 at Mamusa Gallery). Punctum refers to a concept explored by Roland Barthes in Camera Lucida (1980, translated into English by Richard Howard), as "that accident which pricks me (but also bruises me,
is poignant to me)". Taking the concept beyond photography, the exhibit is composed of videos, collages of images and text, with most pieces having accompanying audio compositions, aiming to interrogate "nostalgia, memory, and loss." This is done by the works in isolation and collectively, each one complimenting or contrasting with another.
Perez has two sets of photographs in dialogue with each other. The first one titled in another time, in another place, whenever and wherever that reality is, I hope we're better than this, is made up of seven printed photos of various sizes and one moving collage played on loop in a tablet. They capture wide expanses, made almost abstract, like an image of the ocean and the beach. The ones with clouds are juxtaposed with anonymous building tops, as if for scale. Perez writes that these "images were digitally unearthed and reinterpreted using different forms to convey an evolving memory." How outward looking in another time is, the inverse is true with I can see time passing through me, which I consider to be the stand out of the exhibit. Made up of six photos of miscellaneous items–chicken bones, pills, a cut calamansi–left in the refrigerator for extended periods of time. The pictures are then placed in ziplock bags for "a sense of preservation," but inevitably lays bare its impossibility. This spectacle of "self-neglect" only retains the semblance of the outside shell of objects. There is also a blue neon light in the middle of the set to further give a refracted view of the items necessary for bodily survival, whose preservation has affinities to the rarely spoken limits of media's relationship to memories.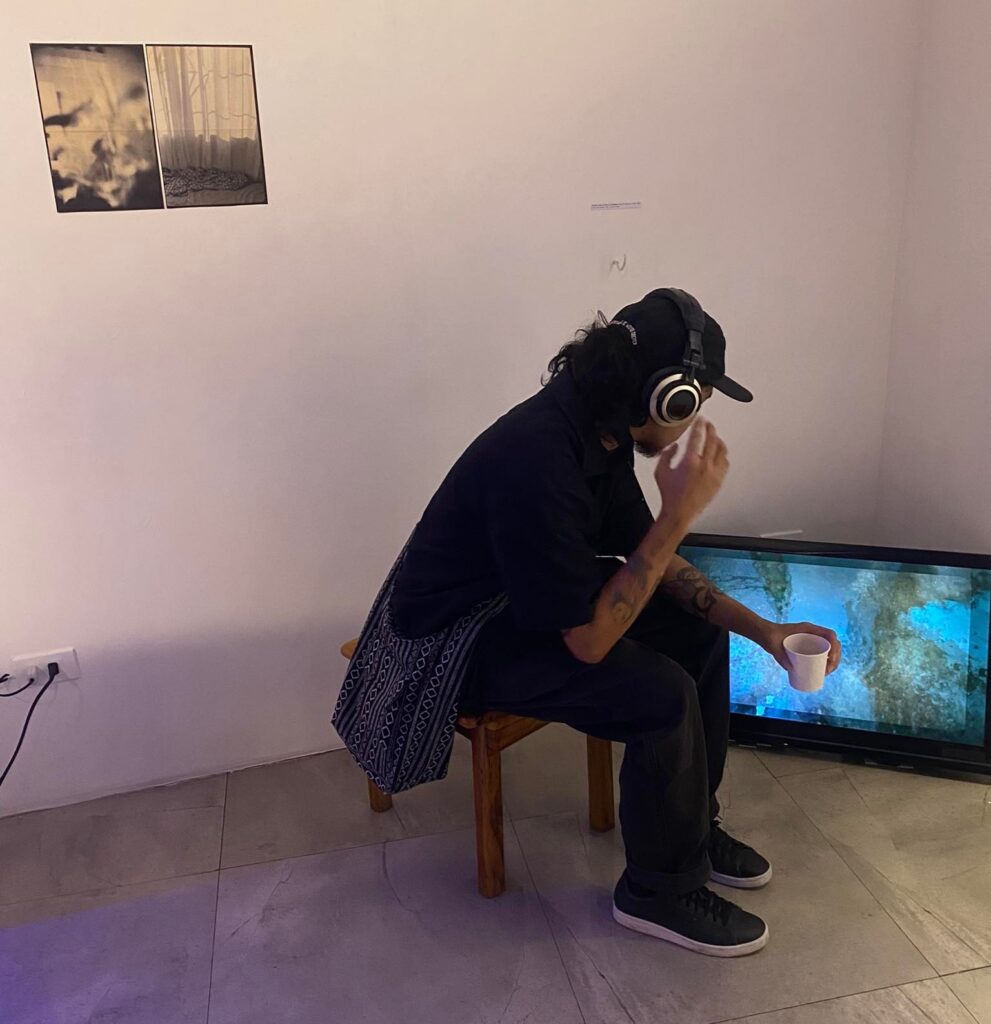 Spaawn on the other hand has more focused collages, using images and text from newspapers and magazines. In each one of the four, there is also a QR code, either integrated in the work itself or in the frame, that leads to recordings to accompany the works. Utilizing the journalistic objectivity of his source materials, the artist creates fragments of the self that is strange if not incoherent. The texts perform as found poetry, with its sources made obscure. One of the two-piece work self- destruction/self-preservation has the following text, "A start, / YOUNGBLOOD / The suffering / never ends / share our pain / and touch our wounds / with a / gentle and tender hand." After the spontaneous conversation between image to image, text to text, and finally images to texts, the audio recording accessible online, adds further texture as is progresses from haunting to upbeat. The several layers of depth masterfully attempts to encompass the anxiety and dread of the pieces. It is unfortunate that these pieces are placed closely beside Perez' in another time, where they could be mistaken as transition or minor parts of the collection. The lack of space gave the impression of congestion, which would have been absent if there was, say a dedicated wall for the collages.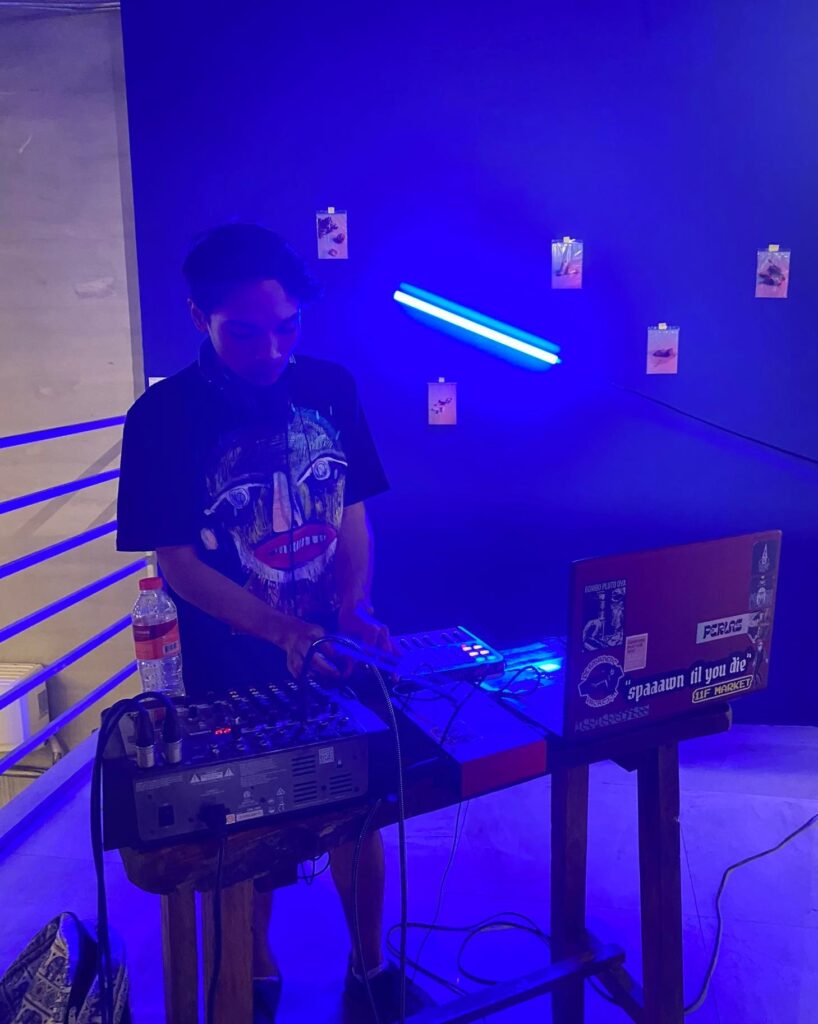 Lastly, the direct collaboration between Perez and spaaawn can be found in the moving collages wounds of time and I keep on being here instead of there, with the former played through a monitor placed on the floor and the latter in a screen conventionally mounted on a wall. This time, there are headphones available for immediate listening. Wounds shows pastoral composition that are extensions of Perez' in another time; and ebb of the waves on a beach, close up of grass and soil, and finally wider shots of a forest and mountains. Meanwhile, I keep on being here examines the diasporic self, showing a transition from a room — a bed, curtains, window, to scenes visibly in Iloilo City and finally what appears to be much more dense foreign city, probably Hong Kong. Perez was born and raised in Negros Occidental, then moved to the UK as a teenager, and now works between the two countries. By only giving hints of a cultural background, we see the pitfalls of total abstraction. We never truly see tangible narrative audiences could hold on to, in I keep on being here, and in Punctum as a whole. A reasonable amount of context here would have made this project resonate more, something to signal one's roots to approach the supposed rootlessness of mixed media.
In different ways and degrees, the pieces in Punctum explore the composition of the self through memories and images, exposing agency but also artifice. In themselves, these objects sourced have fix meanings but give off the affect of loss especially of the fleeting moment. Curiously, what I find the most emotive in the experience of visiting the exhibit is the challenge of its staging. There's limited space, and one can't focus on the audio accompaniment since the restaurant bar below is also blasting loud music. I visited during the mid-afternoon, and the sun's glare through the gallery's glass walls decidedly affected how the pieces are, literally, brought to light. In trying to pin down the mundane, which could seem deceptively easy, especially for the general audience, Punctum serves as an example of possibility, while exposing the need for more art spaces locally that are capable of projects of such nature. Perez and spaaawn demand us to pause and remember, asking 'what now?' after we document ourselves and our present.