At Calle El Porvenir
Most old buildings and spaces lose their spirit and meaning through time; some are left dilapidated while others are simply demolished to give way to new structures. On the other hand, some structures, especially those that bear historical significance for being the residence of prominent figures or for being the sites of events important to a locale's history, are preserved and even revered as shrines or heritage houses. One way to effectively preserve these old buildings, as exemplified by the restoration of Spanish and American era houses, mansions, and commercial buildings of Iloilo city, is to re-purpose or add to the practical use of its spaces – by turning it into a museum, an art gallery, or even into a cafe or restaurant. In Kalibo, the capital town of the Province of Aklan, one house shares the same spirit of having both a historical and practical space, however, it is neither a house of a wealthy Aklanon landlord or a local politician but of a humble carpenter and loom weaver.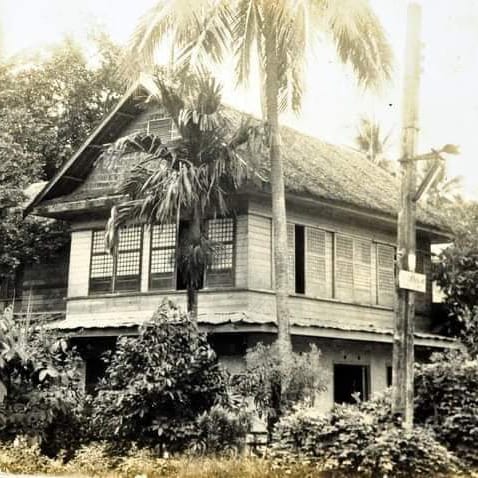 Now called the Pinamana House or Baeay Pinamana ("baeay" being the Akeanon word for house), this small house, with a floor area of just eighty square meters, is the ancestral house of the Dela Cruz family. This ancestral house of the Dela Cruz family is the first house ever built at Calle El Porvenir ("The Future"), the original street name and was later changed into Datu Bangkaya Ave. in reference to a Datu in the Maragtas legend, before being renamed again as the present Desposorio Maagma Street. The house was built after the war, some time between 1948 and 1949, and was owned by Macario "Cayo" Murallo Dela Cruz, a well-known carpenter in Kalibo during his time, and Irene "Ine" Maño Aguirre, a loom weaver and the daughter of Roman Aguirre, one of the nineteen Akeanon Katipuneros who were executed by the Spaniards on March 23, 1897. Though some improvements have been made to the house through the years, by Lolo Cayo himself and now by his grandchildren, most of the original wooden posts made from ironwood are still intact, as with its Capiz shell windows. While its old nipa roof has been replaced with simple galvanized sheets due to fire-safety protocols, the concrete ground floor and the wooden second storey has stood firm – withstanding the strong typhoons that frequent the region, from Undang in 1986, Frank in 2008, Yolanda in 2013, and Ursula last 2018.
A house of heroes
The house itself is symbolic as it lies just fifty meters away from the common grave of the Nineteen Martyrs of Aklan, presently the site of the Aklan Freedom Shrine. Apart from being the daughter of a Katipunero, Lola Ine has also raised future Akeanon heroes in this very house. Of the seven children of Lolo Cayo and Lola Ine, six were boys, and five of them served in the Second World War – three brothers in the USAFFE and the other two as guerrillas in the resistance movement in Panay. Their mother Ine even prodded her husband Cayo and their youngest brother, who was by then only fifteen-years old, to also volunteer as a guerrilla, both, however, were turned down due to being too old and too young. All five brothers survived the war and they, together with the rest of their siblings, went on to become professionals. This is a feat which this family's younger generation are quite proud of; that despite of their Lolo Cayo and Lola Ine not having any formal education, their children grew to be future lawyers, educators, and writers. The brothers Manuel and Salvador became lawyers after the war, Beato a doctor in education, and Jose and Leopoldo continued a career in the military. Jose retiring as a tank commander and Leopoldo as an army Major. Furthermore, Roman, Leopoldo, and Beato would later be known for their works in Aklanon local history, journalism, and literature.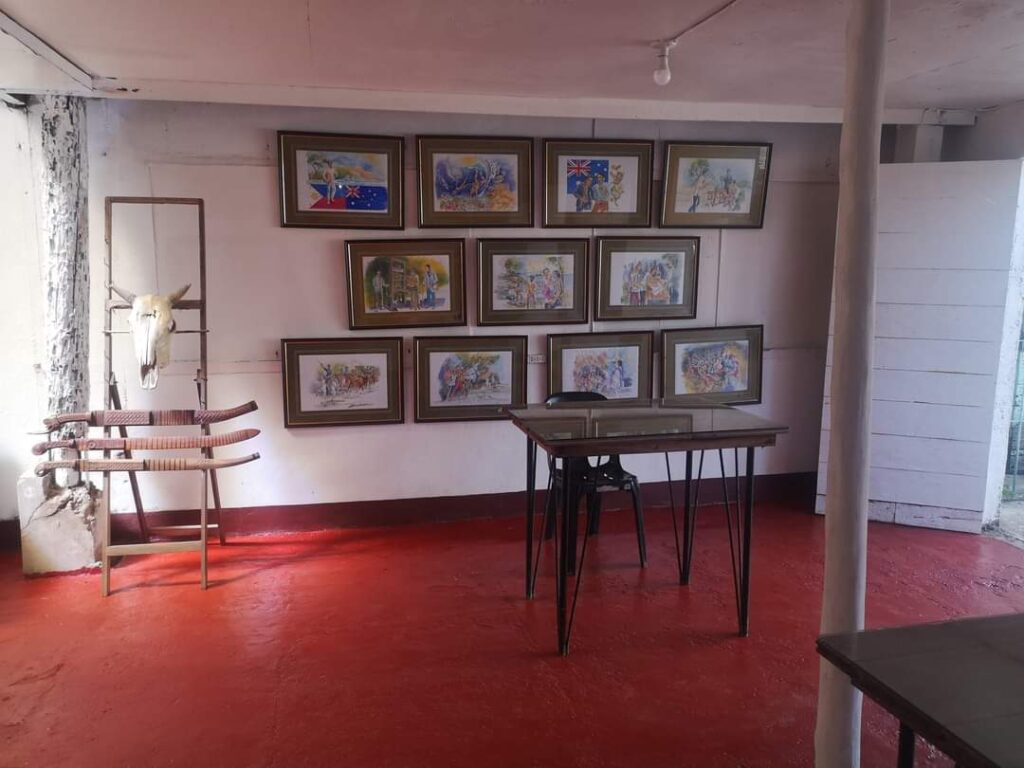 The Pinanubli Art Gallery
Realizing the rich family history that is attached to their ancestral house, a grandchild of Lolo Cayo and Lola Ine, Emmanuel Soviet Russia, together with his other cousins, decided to preserve the house instead of having it demolished. Then, just recently, his children and nephews came up with the idea of turning their family's ancestral house into a snack house and art gallery. In honor of their Lolo Cayo, who was also fondly called by the old folk of Kalibo as "Maestro Cayo" for his skill in carpentry, and Lola Ine who continued the century-old tradition of Piña weaving, their grandchildren and great-grandchildren have opened up the Pinanubli Art Gallery in the Baeay Pinamana, to showcase the works of Aklanon craftsmen and artists. The small art gallery hopes to utilize its space to help young visual artists and to display the rich cultural heritage of Aklan, particularly the craft-making traditions of the countryside that are being kept alive by local artisans, such as wood carving, sarok weaving, piña weaving, hand embroidery, and the forging of talibong blades to name a few.
Aside from paintings and traditional crafts, the gallery will also exhibit sculptures of various mediums, as well as the works of local photographers. At present, there is also a hand loom on the second floor of Baeay Pinamana operated by a seasoned weaver, to allow visitors the opportunity to witness the intricate and meticulous process of weaving the fine threads of piña and other native fibers such as silk and abaca. Anna India A. Dela Cruz, another grandchild of Cayo and Ine, is the gallery's resident artist and is at the forefront of the preservation of this century-old tradition. A collection of books and pamphlets written and authored by the children and grandchildren of Lolo Cayo and Lola Ine can also be read by guests. Some of these books are Life with the Family (a folk autobiographical novel), Town of a Thousand, Along alone a lonely road, and the Five Language Dictionary (Panay Island) by Roman Dela Cruz; the Akeanon translation of the New Testament by Vellyzarius I. Dela Cruz; a compilation of XIX Martyrs' stories and a XIX MARTYRS Coloring Book by Emmanuel Soviet Russia A Dela Cruz, and Emotional First Aid by professor Leux deus Fils M. Dela Cruz, among others. While continuing the legacy of Lolo Cayo and Lola Ine by devoting the space of Baeay Pinamana for the preservation and promotion of Akeanon cultural heritage, the family has also decided that a portion of the sales of the exhibits will be given to children suffering from cancer, as part of their advocacy on cancer awareness following the death of a beloved family member from brain cancer.
For each month, the Pinanubli Art Gallery will be featuring the works of one or two local artists or traditional craftsmen. The gallery opened its doors just this month with its first exhibition featuring the sibling artists JB and Christine May Lusegro of Malay, Aklan last February 11. This exhibition signals yet another chapter to this seventy-year-old house and is a testament to the continuation of its spirit as a home of artisans.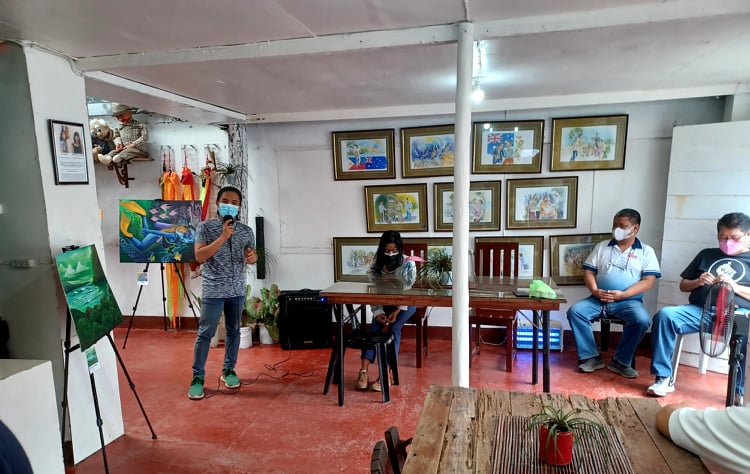 Photos were provided by the Dela Cruz family.