It was a night in the city of Iloilo one could not forget. March 17, 2018. The night when Iloilo Museum of Contemporary Art (ILOMOCA) opened its glass doors to a privileged few.
For several months, commuters and passersby would chance upon the half- finished stark white neoclassical façade of the building that proudly bore the name Casa de Emperador. Two years before, the wheels of fortune had turned when Filipino- owned Emperador Inc had acquired Fundador, Spain's largest and oldest brandy. It was a case of the colonized breaking free from the shackles of tyranny. The building stood like a nonliving testament to Philippine freedom. Outside, a bronze statue of Ilonggo hero Martin Delgado glinted at high noon, valiant and defiant as he and his steed leapt mid-air. Though Ilonggos were used to stately ancestral houses and rows of art deco buildings downtown, the new building still looked formidable.
I remember feeling lucky to have been invited to this exclusive event. Wanting badly to blend with the artsy crowd, I wore a purple chiffon kaftan with hablon details with an all-black ensemble underneath. My knowledge of art was limited then but my desire to know more about it was insatiable.
The attendees were a mixture of highbrow society, visual artists, performers, and corporate bigwigs. After the perfunctory ribbon cutting, speeches, photo-ops, performance by a dance troupe, we were allowed to explore the three-floor gallery. Wall after wall, space by space, our eyes feasted on works by giants like Arturo Luz, Ang Kiu Kok, Napoleon Abueva, BenCab, Jose Joya. A bronze sculpture of a long- haired girl floating with her arms spread by Fernando Cacnio beckoned to me. Ilonggo artists were also well-represented. Most of the paintings seemed intimidating in their size and scope. On my way up going to the third floor, I saw Elmer Borlongan on the opposite side of the escalator. As soon as I reached the landing, I went down and tried to chase him, but I was no match for his speed.
ILOMOCA was just one of the galleries in Iloilo City, a city experiencing not just an economic boom that time, but an art renaissance, as well. Galerie d'Arsie showcased the carefully curated collection of art patron Arsenio Rafael III. Inside the former provincial capitol Casa Real was a hidden artist-run gallery. Et Nos was a small gallery near the gates of Angelicum School, a grand ancestral house adaptively reused into a school by Dominican priests.
Aside from art exhibits and gallery openings, murals suddenly became visible throughout the city.
Along Muelle Loney or Iloilo's River Wharf, several murals on the walls faced the pristine river: a toothless member of the indigenous tribe Panay Bukidnon, the serpent-like dragon Bakunawa surrounding the local heroine Teresa Magbanua, Graciano Lopez Jaena looking dapper as he sat cross-legged. A colorful and vibrant depiction of a mother hugging her baby could be seen across a supermarket. In the perimeter of SM City Iloilo, there were murals of Dinagyang warriors everywhere. In a hospital parking lot, a forest nymph hid behind trees.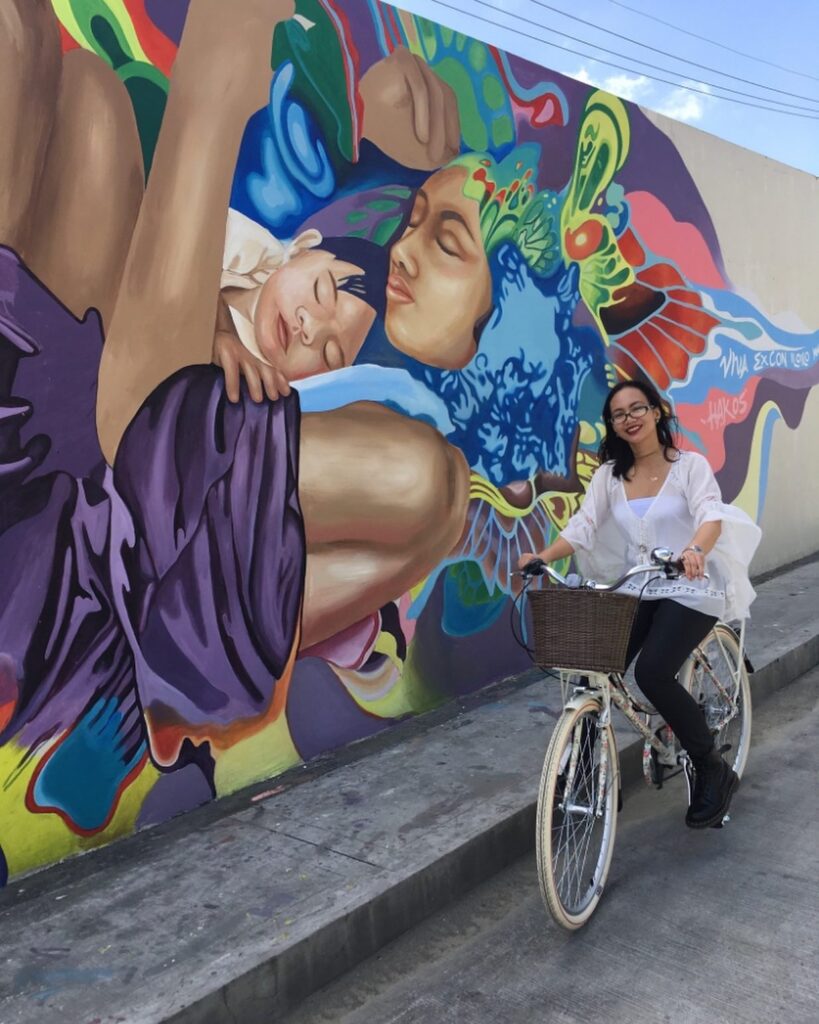 Occasionally, there were graffiti and wall art that seemed to be inspired by the rise of murals, seemingly painted when everyone was asleep. One of the memorable graffiti in the city was that of the president's face, adorned with double horns like that of a Viking. The mural was right across Jollibee and a busy intersection, certainly not to be missed like Banksy's works. Art thus thrived in the city, slowly becoming a collective effort and movement, luring people into its vortex.
Then, an unexpected storm came. COVID-19 pandemic hit and in a flash, art was considered non-essential, sitting at the bottom tier in the hierarchy of needs. The windows and doors of galleries had to close for the time being.
Fortunately, it would not remain so, for art is an unstoppable wind that stirs and moves things.
Because of restrictions during the pandemic, events were cancelled but art remained a strong force that refused to be still. A mural of frontliners was created by a team of local artists, paying homage to these pandemic heroes' courage and resilience. Artists painted on bike racks that were placed strategically around the city. Online art exhibits raised funds for healthcare workers.
But as the threat of the pandemic began to slowly wear off with the city-wide vaccination program and as the national elections neared, Ilonggos became empowered to go out of their homes. They began attending rallies and making portraits of candidates on public walls. Suddenly, art became an outlet and a political statement.
In the aftermath of a pandemic and political transition in our country today, art has evolved, its true nature revealed and layers unraveled, the purpose of which may be something more than aesthetics. Albert Camus implored us to create dangerously and to use art wisely. "The freedom of art is not worth much when its only purpose is to assure the artist's comfort."
We now begin to shun the old purpose of art: to create a thing of beauty, to immortalize people, to touch higher sensibilities. Leo Tolstoy, in his book What is Art? says, "The business of art consists precisely in making understandable and accessible that which might be incomprehensible and inaccessible in the form of reasoning." Art has certainly expanded beyond the expanse of an art gallery, where there was safety and comfort behind its glass doors. As more people recognize that art can do so much more: to raise consciousness, to intimate the possibility of change, to create ripples, to spark hope, to transform lives inwardly or out, to allow a glimpse at eternity, art has transformed into a powerful essentiality.
As art steps out of cloistered spaces, a fresh gust of wind blows. It steps out to scatter its light into the open, into the free, and into the possible. And we must be like leaves swaying gently and purposefully, buoyed by its new breeze.
---
Want to help us document art and culture in your area? Submit your essays to our editors thriveartorg@gmail.com.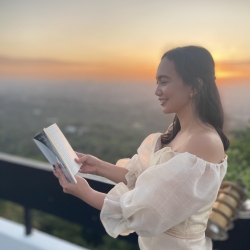 Latest posts by Elvie Razon-Gonzalez
(see all)