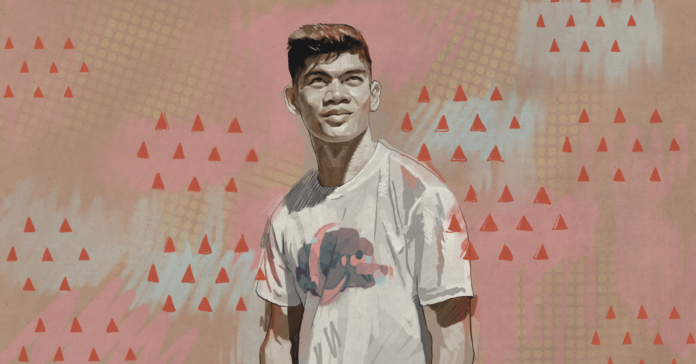 Bilang manunulat, magabukas ka sang bag-o mo nga kalibutan, kag magakabuhi ka sa imo mga sinulatan.

Orland Agustin Solis
Nagikan si Orland Agustin Solis sa isa ka asyenda sa syudad sang Bago, Negros Occidental. Sadtong bata pa sya, ginkahiligan niya ang pagbasa sang mga binalaybay kag malip-ot nga sugilanon, kag mga tugda sang bakunawa sa tuigan nga kopya sang Almanaque Panayanhon. Mahuyugon man sya sa pagpamati sang mga drama sa radyo, kon sa diin masiling niya nga nangin kabahin sa iya pagtuon kag paghangup sa pulong Hiligaynon. Subong, yara na sya sa ikaapat nga tuig sa kolehiyo sa kurso nga Bachelor of Arts in Literature sa University of the Philippines Visayas kon sa diin iya nakilala kag nangin instrumento sang iya padayon nga pagsulat sa pulong Hiligaynon si Dr. Alice Tan-Gonzales, nga nagpati sa iya ikasarang sa pagsulat sa iya kaugalingon nga pulong. Kalabanan sang iya mga sinulatan ang nagasapdag sang mga tema nahanungod sa pagpanguma, mga sinadto nga pagpinatihan kag mga problema nga ginapangatubang sang pungsod kag sang iya komunidad.
Nahanungod sa "Mga Ambahanon sing Kamingaw"
Isa ka katilingban sang mga binalaybay ang "Mga Ambahanon sing Kamingaw" nga nahanungod sa gugma, kamingaw, kasubo, pagbiya, kag iban pa nga mga dili-masaysay nga pagpinatihan. May mga butang nga mahimo lamang mapaanggid apang indi mahimo makilala ang matuod-tuod nga dagway sini, kaangay sang kamingaw kag paghigugma nga nagapabilin lamang nga isa ka makatilingala nga elemento sang kabuhi. Masubo apang tayuyon nga ginabinag-binag sang katilingban nga ini ang kapuslanan sang paghigugma kag mga pagpinatihan nga padayon nga nagahatag kalipay kag kabuganaan sa katawhan, apang may mga tion man nga nangin makatilingala kag makakulugmat. Ginahandum sang koleksyon nga ini nga ipalapit sa bumalasa ang kasubo kag kalipay sang kabuhi. Ang mga palamangkutanon kag ang mga mito nga madugay na nga nalimot kag napabay-an agud magpabilin nga isa na lamang ka palamangkutanon.
Q: What kind of child were you?
Naanad ako nga nagaisahanon. Sa balay, wala na ako sing iban nga kahampang tungod ang pinakalapit namon nga kaingud daw mga isa ka kilometro pa ang kalayuon. Natun-an ko nga lingawon ang akon kaugalingon paagi sa pagpangita sang mga butang nga pwede ko hampangan sa palibot. Wala man ako ginapasugtan nga maglagaw. Kag ako man, gindak-an ko na nga mamati sang mga drama sa radyo amo nga pag-abot sang hapon tubtob sirum nakatutok na ako sa radyo para magpamati sang akon paborito nga mga drama. Nagpadayon ini tubtob nga nakatapos ako sa elementarya. Tubtob subong, nadala ko gihapon ang pagkahilig nga mag-isahanon, kag ang pagsulat nahanungod sa pag-isahanon.
Q: What do you read as a child?
Tungod nga bantug nga balasahon sang mga mangunguma ang Almanaque, amo ini ang balasahon nga ara sa balay. Tagsa ka tuig nagabakal gid kami sang Almanaque agud hibaluon ang mga maayo nga tion sang pagtanom, pagpatukod sang balay, kag iban pa. Diri ako una nga nakabasa sang mga binalaybay kag malip-ot nga sugilanon nga wala ko na-appreciate kon wala ako nalab-ot sa college. Unconsciously, isa ang almanaque sa mga basis sang akon mga sinulatan. Ulihi ko nalang napinsaran, pero para sa akon, isa ang Almanaque sa mga nagpadabong sang akon bokabularyo sa pulong Hiligaynon.
Q: Do you enjoy writing then?
High school ako sang nagsugod ako sulat sang mga binalaybay bilang kabahin sang requirements sa klase, apang wala sa pagdahom ko nga magatupa ako sa kurso nga Literature kag madiskubrehan ang ikasarang sa pagsulat sa college. Sa college ko lang nahatagan pagtamod ang pagsulat kag 'pagbasa' kag nakita ang kapuslanan sini sa sosyodad. Sang nagsaylo ako sa Panay, didto ko nakita ang importansya sang pagsulat paagi sa mga nanarisari nga hubon nga nagahatag espasyo sa mga nagatuon kag luyag mangin manunulat. Sa Negros, ilabi na sa amon sa kaumahan, masami nga wala bili ang pagsulat kag wala sang mga grupo nga nagasapdag sang literatura kag mga luyag magtuon kag magsulat gani maiwat lamang ang mga nangin manunulat gikan diri bisan pa pat-od nga madamo pa sang may mga potensyal sa pagsulat.
Q: When did you first realize you wanted to write? When did you first think of yourself as a writer?
College na ako sang nahuyugan ko ang pagsulat kag pagtuon sa pamaagi sang pagsulat. Sang nagligad nga tuig, hinali lang may nag-message sa akon kag nagapasalamat sa ginsulat ko nga binalaybay nga nabalhag sa isa ka magazine. Amo ato ang tion nga ginhambal ko sa kaugalingon ko nga basi pwede ko na matawag nga manunulat ang akon kaugalingon tungod kay may nagabasa na kag may natandog na nga balatyagon tungod sa akon ginsulat nga binalaybay.
Q: Once you began to write, what future did you imagine for yourself? What was your dream?
Kaangay sang mga Filipino nga manunulat nga ginabasa ko, luyag ko man nga makatandog sang balatyagon ang mga ginasulat ko kag makahatag inspirasyon sa mga bumalasa sa palibot. Luyag ko nga mangin mapuslanon man ang akon mga sinulatan sa ulihi, indi lamang sa akon kundi sa mga nagabasa man sini.
Q: Were you reading poetry books by other writers for inspiration?
Nagabasa ako agud makasulat. Daw nangin practice ko na nga kinahanglan ko anay magbasa bag-o ako magsulat.
Q: What do you do when you get stuck? When you don't know what to write next?
Nagapahuway. Para sa akon, may mga tion nga kinahanglan nga magpundo kadali agud magpahuway kag paminsaran sang maayo kon ano ang maayo nga himuon. Kag binagbinagon kon ano ang mga problema nga nagapunggong agud mabuhat ang luyag buhaton. In this case, ang magsulat.
Q: How did you get started with "Mga Ambahanon sing Kamingaw"? What gave you the idea?
Late 2020, kalabanan sang nabasa ko mga lyrical poems. Kag siguro kahidlaw man sa mga abyan tungod kay malawig na nga wala nakakitaay. Later on, may nakit-an ako nga daan nga kopya sang Almanaque sa balay kag liwat ko nga ginbasa. Didto nagtubo ang idea nga paano ayhan kon magsulat ako sang lyrical poem pero may koneksyon sa kultura kag pagpinatihan sang Western Visayas. Didto nagsugod ang pag-draft sang sini nga chapbook nga una ko man nga pagsulat sang lyrical poetry tungod masami nga social realist ang akon mga sinulatan.
Q: Have you had to do research for your book?
Tungod siguro immersed na sa mga pagpinatihan nga ginbutang ko sa akon mga binalaybay, lip-ot lang gid nga tion ang nagamit ko agud mag-research. Siguro sa mga tion lang nga nagaduha-duha ako kon husto gid man ang akon ideya.
Q: Tell me more how you revise a book?
Masami 'ginapatulog' ko ang ginasulat ko bag-o basahon kag i-revise liwat. Ina tungod nagapati ako nga mas mahapos ang magpangita sang sala kon nalipatan mo na ang ginsulat mo kag fresh na ang pagbasa mo sa imo sinulatan.
Q: How do you know when a book is done?
Wala ako nagapati nga may libro nga natapos na tungod wala katapusan ang pagrebisa bisan matapos pa ini ibalhag. Pero nagapati ako nga malapit na sya matapos kag mapabasa sa iban kon mahimo niya na ihambal ang luyag mo ihambal nga indi mo na kinahanglan mag-explain pa.
Q: How did you go about getting your first book published?
Bag-o pa ining pagbalhag sang chapbook, may mga sinulatan na ako nga nabalhag sa nagkalain-lain nga journals kag magazines, apang para sa akon mas maayo nga magbalhag ako sang katilingban sang akon mga sinulatan. Amo nga sang nagtanyag ang Kasingkasing Press nga mag-print sang akon mga sinulatan, gilayon ko ini nga ginbaton.
Q: What do you like best about being a writer?
Para sa akon ang kalipay nga mahibal-an nga may nagabasa kag na-inspire sa akon mga ginsulat. Sugod sang nagsulat ako, luyag ko nga may kabilinggan ang ginasulat ko. Gani ang mahibal-an nga may naga-react sa ginsulat ko ginakabig ko na nga ini validation tungod kay may nakahangup kay may natandog (sa positibo man ukon negatibo nga pamaagi) sa mga sinulatan ko.
Q: Many young people who want to write think they have to go to indie publishing. Do you think so too?
Kon diin ang mas mahapos kag mas komportable. Madamo na subong sang mga indie publisher ang nagabaton sang mga manuscript para sa kahigayunan nga mabalhag. Mas maayo ini agud mahatagan kahigayunan ang tanan nga mga manunulat nga makabalhag kag indi na kinahanglan pa nga magpila sang pila ka bulan ukon tinuig sa limitado nga mainstream publishers.
Q: What do you tell young people who want to write?
Kon magsulat ka, buot-silingon limitado na lang ang oras mo sa mga abyan mo tungod luyag mo na lang mag-isahanon agud magpaminsar kag magsulat. Kon luyag mo mangin manunulat, kwestyunon mo ang tanan nga butang kag meaning sa palibot mo. Pero bilang manunulat, magabukas ka sang bag-o mo nga kalibutan, kag magakabuhi ka sa imo mga sinulatan. Padayon lang.
---
The Coming of A New Breed of Ilonggo Writers is a series of conversations with Ilonggo young writers on how to cultivate a creative mindset during quarantine. Compiled and edited by Noel Galon de Leon and Kasingkasing Press.
Illustration by Kristoffer Sobremente
Latest posts by Noel Galon de Leon
(see all)