The transition from childhood into adolescence, and from adolescence into adulthood is a life-changing period, one which is heavily documented and explored by artists. In the Philippines coming of age can mean exposure to an emotional rollercoaster, discovery of gender roles, and the constant search for self-concept. This exhibition takes the visitors to the artists' lived experiences, projection of adolescence to their subjects, visualization of repressed emotions, and even the idealization of the future.
For artists, coming of age can be the arrival of a particular creative identity. It can mean the discovery of consistent themes, the creation of momentum in their practice, and the development of the confidence to put their artworks out to the world. This can mean arriving at an identity in multiple phases of their creative lives depending on factors including historical events and their individual milestones.
More than a vehicle for the participating artists' creative journey, the artworks featured in this exhibition invite you to revisit and explore your own coming of age.
'Still Here' by Eric Barbosa Jr. is a series that spanned nine years of creative process (and counting). The images in this series were taken using macro photography. The subject, roses, were first photographed in 2013 for an exhibition entitled "Project Batchoy dot 35" which was also mounted in FDCP Cinematheque Gallery. The roses were kept by the artist until they dried and once again were photographed in 2015 for the exhibit "Collective Effervescence". Accompanying the photograph series is an installation made of digital prints on paper depicting a man lying on the floor, and a short video art narrating the man's day-to-day life.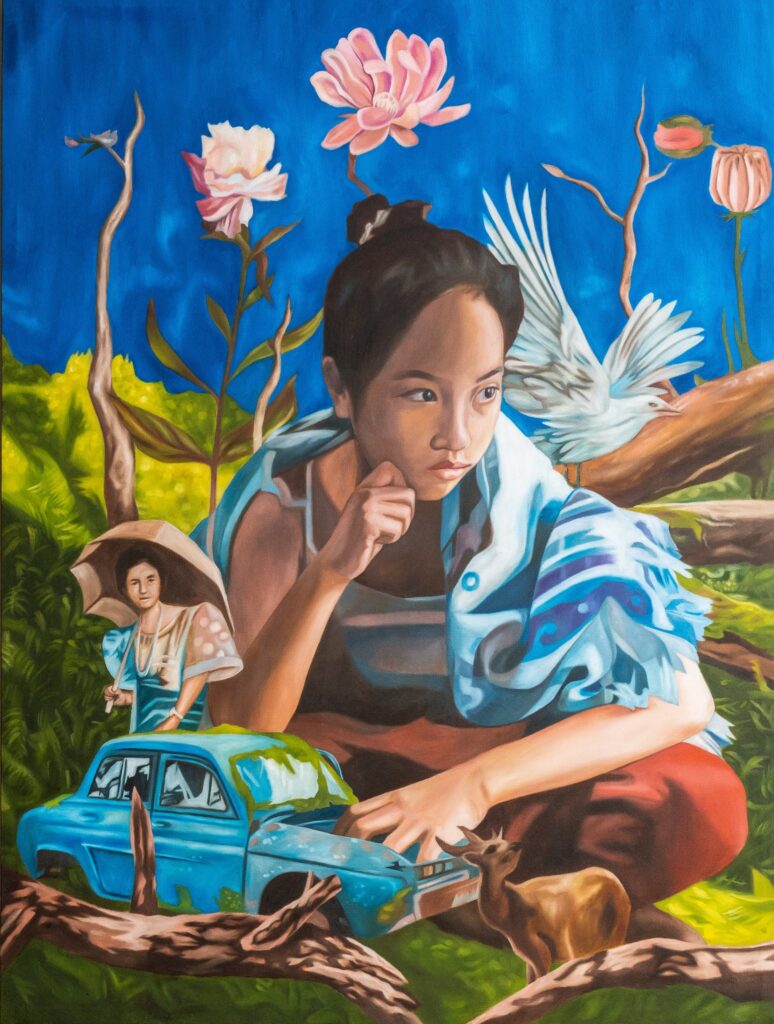 'The Dreamer' by Kristoffer Brasileño is a collage of childhood of imaginings. With a portrait of a girl seemingly daydreaming, against the backdrop of flora and fauna. The artist also places toys in the frame, perhaps a cue that the subject is playfully dreaming. Brasileño's works attempt to create hybridity in the images which he calls Pinoy pop surreal, subtly mixing icons of Pinoy culture and the elements of surrealism.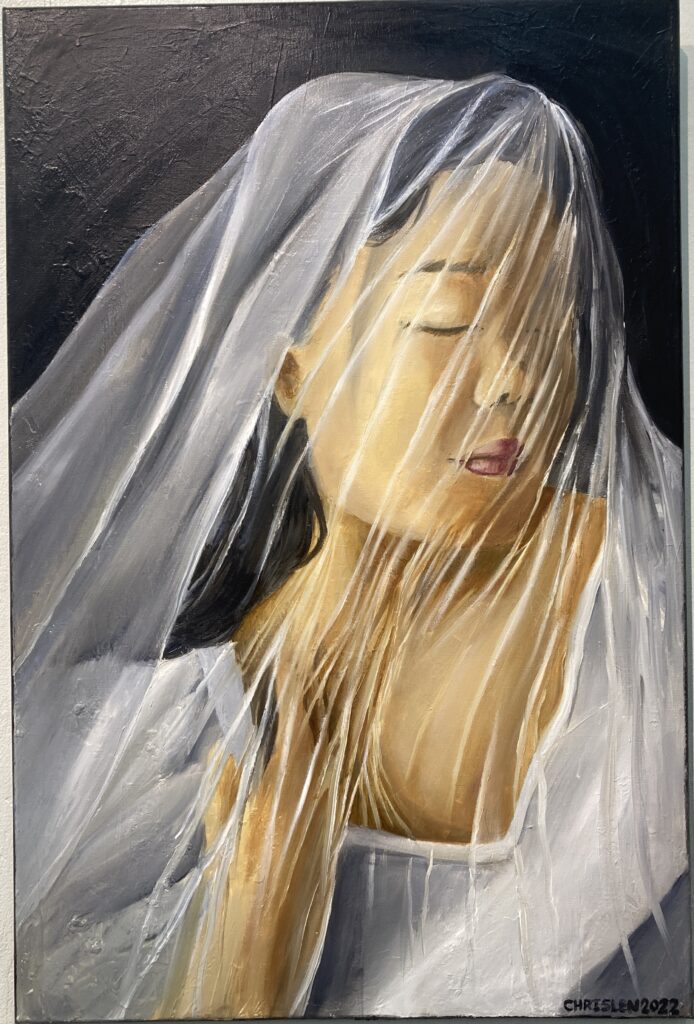 Chrislen Estember portrays two maidens in her paintings, one is cloaked in a white veil and the other is submerged in water. The softness of the veil and the fluidity of the water accentuate their peaceful faces. Estember is a graduate of the University of San Agustin Fine Arts program, where she is also currently an instructor.
"Coming of Age" is the second exhibition organized by Thrive Art Projects as an exploration into art spaces beyond the internet. It is currently on view at the FDCP Cinematheque Center Iloilo.
Editor's Note: We have integrated an online art gallery as companion for this exhibition. You can checkout the artworks through the art gallery section.
Latest posts by Thrive Art Projects
(see all)